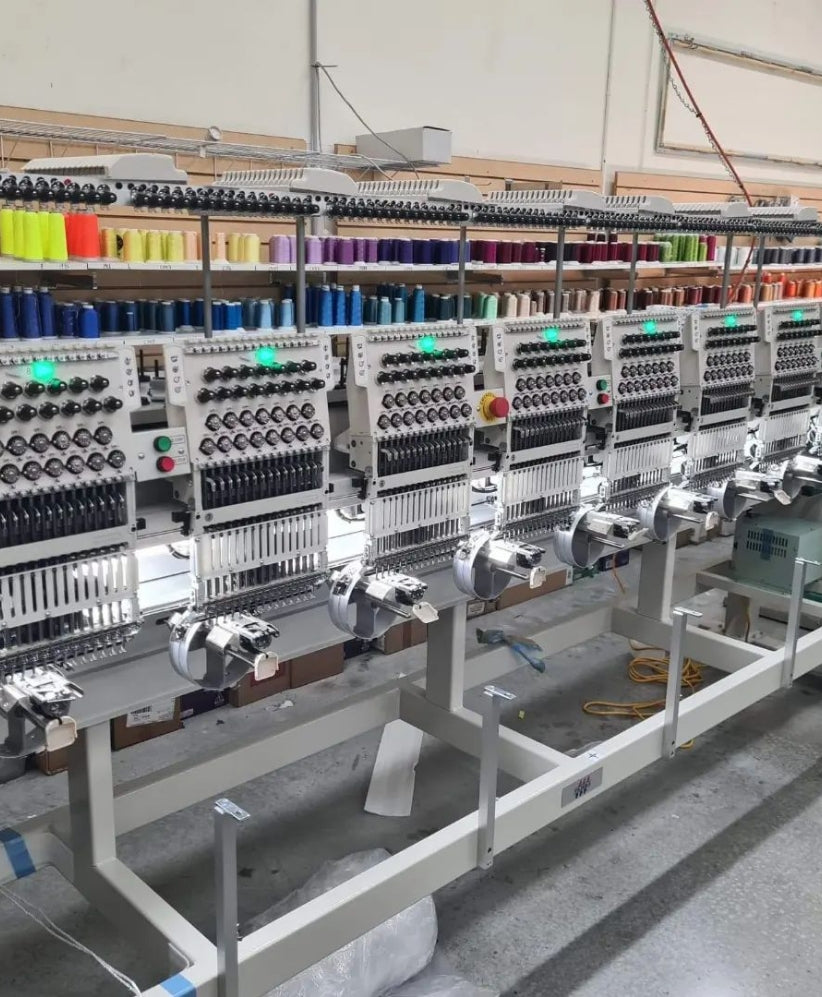 Embroidery Services
Advon is a full-service contract embroidery shop. We have the machinery and experience to handle high-volume orders in a timely manner. We can help source and provide blanks for you, or you are welcome to send embroidery items to us directly or through one of our industry partners.
Contact Us
Advon's custom embroidery services are second to none. While our processes and speed are unmatched no matter the size of an order, we use the most exceptional thread available, as an authorized Madeira distributor, we have access to all the best threads to make your custom embroidery project an unquestioned success in quality and care.
Our Embroidery Process
The Process goes like this:
You submit the design you'd like embroidered and the quantity of what you would like decorated.
Image is either already digitized or must be submitted for digitizing (Advon can prepare your photo for embroidery for an additional fee)
Our pricing system is based on stitch count & quantity of garments. Advon will estimate a price based on the quantity of stitches it will take to complete the design. Then, our team will be in contact with you throughout this process with the estimate. If you have any additional pricing questions or concerns, please contact our team here or give us a call.
If garments must be ordered, the quantities needed are ordered at this point in the process.
Once all garments have arrived (either through ordering or client drop-off/shipping) and approvals for design or digitizing are completed, the project can be placed in line for production.
Embroidery operators set up the embroidery machines and decorate based on specific instructions for each project.
Your order then goes through Quality Control and is packed for delivery.
Front office workers are notified the order is complete and contact you right away for pickup or prepare the order for shipping.
Order is then picked up at our Maple Grove location or is picked up by a third party shipper.
You receive your order, showcasing your new custom apparel!
Please contact us for more information.
When it comes to the simplest or most intricate design you can think of, Advon has the tough, detailed thread to get the job done right, along with the machines and tried processes to make this embroidery application second to none. Depending on your need, Advon can handle custom designs for custom applications, or we can work with you through the design process you may need to find the best logo or print for your application. Regardless your route, our team is prepared to assist you through the entire process. In addition to custom designs for embroidery applications, we can create patches with a more robust design presence, if it makes more sense for your business.
Advon is a premier embroidery shop in the Twin Cities and Minnesota. We have more than 50 years of embroidery experience creating beautiful designs for clients everywhere, showcasing their brand or event beautifully on whatever they can imagine. If you need a custom embroidery shop with great results, contact Advon today at 763-488-8000 or fill out our contact form here to get help from an embroidery specialist.
If you are looking for custom embroidery for headwear, hoodies, shirts, bags, polos, workwear, outerwear, jackets, accessories, and more please call or email us and one of our customer service specialists will be happy to assist.
Check out our catalogs:
While we can handle every custom design application, on what items can you apply the embroidery? See below for list of just some of the apparel and accessory options we have for embroidery.
Advon Embroidery Specialties
FAQs
What is the time it takes to complete an embroidery application?

Our current turnaround time is 7-10 days. Day 1 begins after we have received the complete garment order and any approvals for digitizing or samples. Depending on the size of the logo it can stitched in 5min - 20min. 
Are there limitations for the size of my design?

The max height for hats is 2.5 inches and max width is 4.0 inches. Our largest hoop at the moment allows for an embroidery area of 10.0 inches tall and 16.0 inches wide. Much of what we are able to do also depends on the material and shape of what you are wanting to decorate.
How durable are your embroidery applications?

Our embroidery processes utilize state-of-the-art machinery along with top-notch materials including backing, thread and more. Our embroidery applications are incredibly durable and will last through normal use and cleaning.
What kinds of thread do you use?

Advon is an exclusive Madeira thread distributor and we use their highest-quality thread in our applications. Specifically, Madeira has a wide-selection of thread that have benefits for different types of applications. Our embroidery experts have been working for years to help our clients in using the right type of thread for their applications to look great and last a long time.
What type of shipping options do you offer?

We ship via UPS and Spee-Dee regularly. FedEx shipping available upon request.
Can I get a discount on larger bulk orders?

Yes! The more you order, the less it might be per item. We have "tiers" of cost based on the quantity of what you order and your stitch count for decoration.
Can I supply my own apparel for you to embroider?

Absolutely! If you are supplying your own garments, they should either be new or garments in good condition that are freshly laundered and well organized. 
Start Your Embroidery Project!